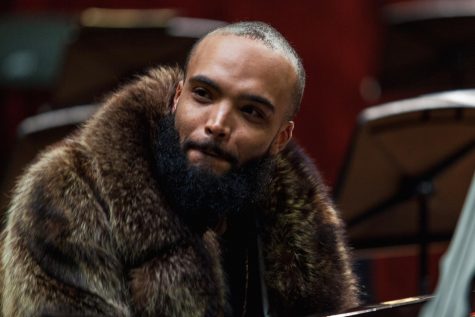 As Marcus Norris takes on his new role as one of the first composers-in-residence for the Chicago Philharmonic, the Columbia alum remembers his love for the city of Chicago.
Norris, a 2014 music composition alum, said Chicago is like a safety blanket for him.
"When projects come up and I get a say on where the musicians come from, I always go back to Chicago," Norris said.
Norris, who resides in Los Angeles, made his return to Chicago on Sept. 12 for the performance of his violin concerto "GLORY," which was part of the Chicago Philharmonic's concert "Out of the Silence" and performed by violinist Njioma Grevious at the North Shore Center for the Performing Arts, 9501 Skokie Blvd. in Skokie.
At the beginning of September, Norris joined the Chicago Philharmonic for his residency, which is the first residency program for the organization.
The Donna Milanovich Composer in Residence program began in January 2021 and was a parting gift from Chicago Philharmonic's former executive director Donna Milanovich to champion diverse voices in music.
Along with Norris, two other composers of color will take part in the three-year residency and have a seat on the Chicago Philharmonic's Artistic Programming and Policies Committee, as well as perform one symphonic work and one chamber work over the three-year period.
Norris credited Columbia for his career success as a composer. Referring to his senior recital which he had to put together for performance at the Music Center in order to graduate, Norris said he was able to take an unorthodox approach to this concert. He said this gave him hands-on experience and is something other schools probably would not have let him do.
"If I hadn't done that, I'm not sure I'd be doing what I'm doing with South Side Symphony," Norris said.
South Side Symphony is an orchestra based in LA, which Norris founded in 2020 based on an idea he had for what an orchestra would look and sound like had it been invented by a young Black man in the present day. The result, Norris said, is doing the things he wants with the orchestra and not having anyone veto him.
In his orchestra, Norris and the musicians pitch unique ideas with the compositions they perform, like blending hip-hop with Beethoven.
Regarding his residency, Norris said it feels like a tremendous opportunity for him to be able to collaborate with the organization and build relationships with the musicians.
"The relationship part is what really excites me," Norris said. "I feel like getting to know the musicians is going to take music to another level."
Terell Johnson, Chicago Philharmonic's new executive director, said having these diverse voices playing music is something that was very important to the organization, and he is looking forward to having Norris in the residency.
"Having tremendous talent like Marcus to be a part of this program is such a privilege," Johnson said.
Ilya Levinson, associate professor and director of Composition Studies in the Music Department, taught Norris' private lessons in preparation for his senior recital and said he was a proactive student who always wanted to improve.
"Marcus felt comfortable in many genres, and I think that was a key to his success," Levinson said. "I have very fond memories of him, and when I heard about his success, I was very happy."
Norris said as a composer, he encourages people to come out to his shows not only because he feels they will enjoy it but also to give people the chance to meet him.
"I want people to realize that I'm a real person," Norris said.